Drug recovery: A difficult journey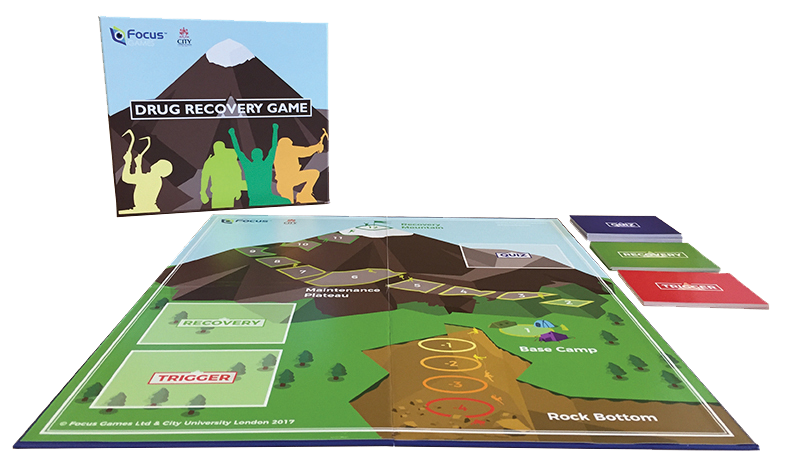 The Drug Recovery Game is designed to help players develop their knowledge of the journey that a person takes when trying to give up any substance. It helps them to understand that recovery is often a long path with improvements and relapses, rather than a straight road to recovery.
Players compete to reach the top of "Recovery Mountain", answering and discussing questions to improve their drug and alcohol knowledge. Their journey to achieve recovery is boosted and hampered by "Recovery" and "Trigger" cards that present situations which might trigger a relapse, or lead to a positive change in behaviour.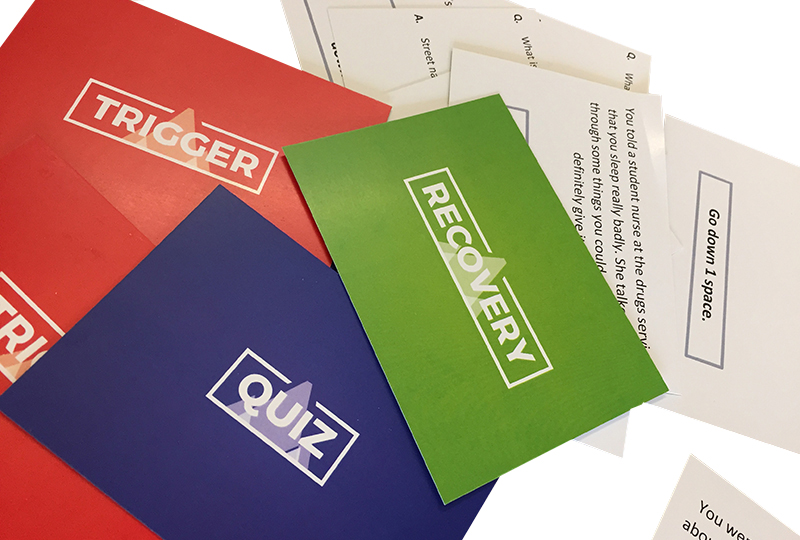 "I created the Drug Recovery Game to demonstrate the complexity of recovery from drug use. The game is designed to encourage players to explore their understanding of both the theoretical knowledge they need to work with people using substances, but also to develop their compassion and understanding of the myriad of factors which contribute to and hinder the recovery from using substances."
Lorna Saunder, Senior Lecturer in Mental Health, City, University of London.
Healthcare staff Edition
Staff working with people who have an addiction aren't always addiction specialists. They may not have a full understanding of the nature of the recovery process, or the ups and downs a person might go through in everyday life.
The Drug Recovery Game was developed by specialists and academics at City University London to provide an overview of this journey in an engaging and memorable way.
Suitable for anyone in health, social and community care who has contact with individuals recovering from addiction – both qualified staff and students.
NEW! Awareness Edition
We have now developed a general awareness version of The Drug Recovery Game, designed for anyone who wants to improve their understanding of the recovery process, and learn about substances, the law, and health risks.
It is suitable for anyone who wants to broaden their knowledge. This version could be particularly useful for drugs services, schools & colleges and any organisations offering a service to the public.
Visit the shop to buy drug recovery and to see our other games.
£60.00 excluding VAT
2 - 4 players



Up to 30 minutes of play



No facilitator required



Over 60 question, trigger & recovery cards!